B

O

O

S

T

Y

O

U

R

B

R

A

N

D

T

H

R

O

U

G

H

S

O

C

I

A

L

M

E

D

I

A

M

A

R

K

E

T

I

N

G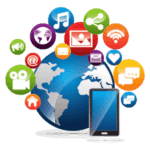 SOCIAL MEDIA
MARKETING SERVICES
Improve brand exposure, customer reliability, website traffic, and sales with powerful Social Media Marketing Services from a successful INDIAN Social Media Marketing company.
Efficiently managing your social media needs a concise content strategy, consistency & creativity in spades. NGO PARTNERS can do all of this for you across Facebook, Instagram, LinkedIn, and more employing creative and powerful Social Media Strategies to truly take your brand to the next level.
How Social Media Marketing Help Businesses?
Depending on your business, brand, location, target, and products/services there are so many ways in which social media marketing works for a business but it always promotes the best facets in order to appeal to its specific audience. As an example for local businesses, we focus more on specific regional targets, tailoring the package towards those in your vicinity that have an interest in local (more personal) products/services and are in your geo-location. The strategy uses what it knows to focus is content targeting, telling a social story to its desired 'target' client/buyer. 
It doesn't matter if you run a small local shop or a big company. Social media is a vital piece of your business marketing strategy.
Social platforms help you associate with your customers, upsurge awareness about your brand and boost your leads and sales. With more than three billion people around the world using social media every month, the users and engagement on major platforms just keep increasing.
Take Our Expert Consultation !!
Benefits of Social Media Marketing
Get Attention and Build Awareness
Communicate Authority
Grow Affordably
Increase Engagement
Responsive and Quick